Welcome to the Off Road Podcast. I'm your host, Ben. Today we will be exploring the off road world-- whether you like crawling up rock ledges or enjoy exploring the backroads with your family. Stay with us to find out events in your area, off road news, and topics to interest every guy & girl who craves the outdoors as seen through the windshield. I am here with my co-host Aaron. How's everyone doing tonight?
Anyone done anything exciting?
Aaron - Bought a scope for my newest rifle. Cut a bunch of holes in the sheetrock looking for a leak.

Ben - Working on scooter tracking down vacuum issue so it will start up but its damn near there.
News
Help support the show, by clicking through our amazon affiliate link on firearmsradio.tv
Amazon Product of the Week
50pcs Solder Seal Wire Connector 14$
Amazon items you bought:
3" Universal Table Vise
Happy Hips Lamb Jerky Strip Dog Treat
5-in-1 Over-Ear Gaming Headset with Detachable Microphone
Streamlight 69220 TLR-3 Weapon Mounted Tactical Light
Patriot Patch Company
patriotpatch.co go check out their selection of great patches and shirts (join the patch of the month club for 15 dollars a month and receive a patch and matching sticker every month). Also, don't forget to order the "4x4 it's not a leak I'm marking the trail" patch as well as the "It's dangerous to go alone". The better it sells the easier it will be to get them to make other off road patches for us!
Do you like us or any other shows on the network? You can support us with as little as $5 by visiting http://firearmsradio.tv/pledge/ and click the off road podcast link.
Main Topic -
Mario Donovan from AT Overland - adventuretrailers.com
B - How did you get started off-roading?
A - What was your first rig?
B - What's your rig Now?
A - What type of wheeling do you like to do?
B - Most embarrassing moment on the trail?
A - What ignited the spark in you to start your business?
B - How long have you been in business?
A - Did you get started with trailers then branch out to the accessories?
B - Briefly tell us about the spectrum of products you offer.
A - Do you have a favorite product?
B - Walk us through the different trailer models you have and some key points to each of them.
B - Your JK Storage is pretty sweet. What was the inspiration for it?
A - What I really want to know more about is the habitat. What comes with it? What are some accessories for it?
A - What kind of outfitting and installation do you do?
B - Have you built any rigs that our listeners might recognize from Youtube or any other social media?
A - Favorite vehicle that you have modified/created?
B - What s a hydronic system?
A - What are some awesome places that you've gotten to visit because of your company?
B - You get to go to attend many off road events or rallies?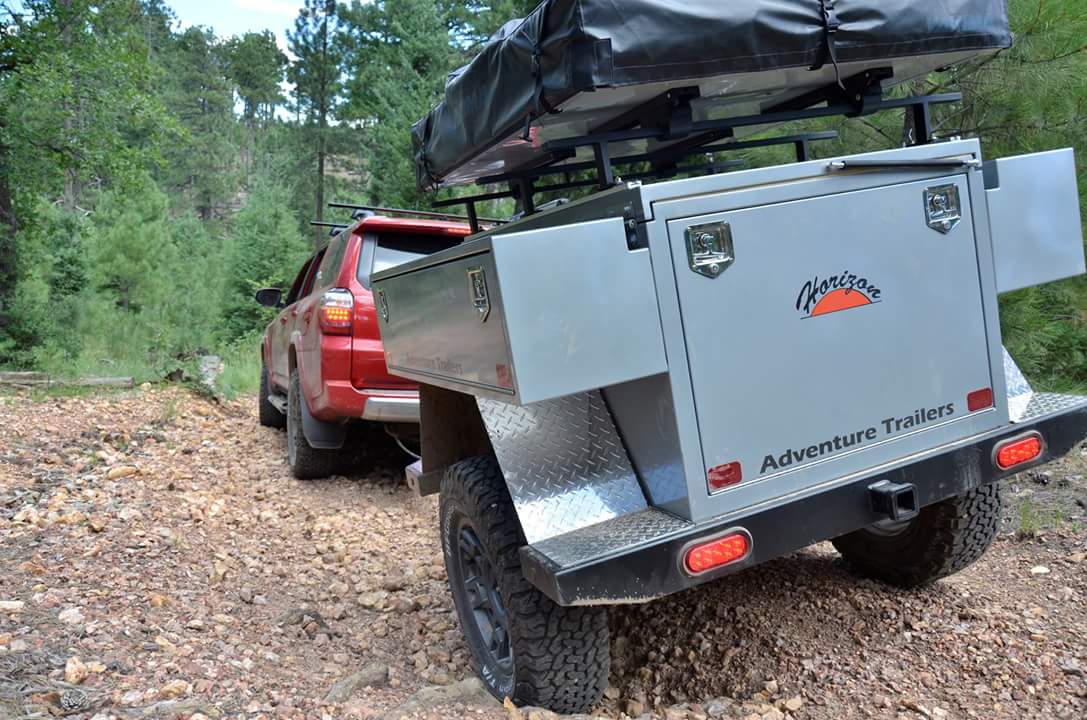 A - I have sat in on and enjoyed your trailer maintenance class at the NWOR.
B - What's your company's mission statement?
A - Where can our listeners find you?
<amazon and patriot patch> Don't Forget to visit Patriot Patch and join the patch of the month club. Consider our monthly pledge to help support the off Road podcast. Remember to use our Amazon affiliate link for all your Amazon shopping needs.
Closing Statements
We are a proud part of the firearms radio network. firearmsradio.tv your one stop shop for your firearms radio entertainment. Please leave us some feedback at offroadpodcast@gmail.com also leave us some comments on itunes, our web page or on your podcatcher app to help promote the show. Full show notes available at firearmsradio.tv/the-off-road-podcast/163. Don't forget to visit our facebook facebook.com/offroadpodcast or our Instagram @offroadpodcast. And always, when offroad please remember be smart, courteous, alert, safe and as always have fun & tread lightly, And thank you for listening.